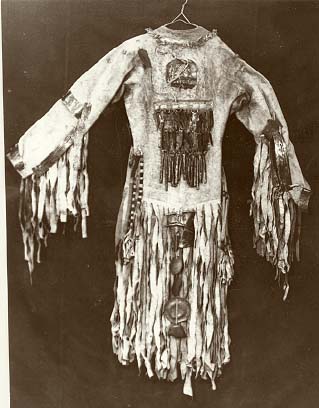 Image by the Russian Museum of Ethnography
The coat symbolizes a bird--the main spirit protector of a shaman. The long, dense suede fringes along the lower part of the sleeves and along the bottom of the coat depict bird feathers, and the rectangular metal plates attached to the sleeves represent the bones of a bird wing. On the breast there are two rounded discs, the "nipples," and a pear-shaped pendant, the "navel." These symbols serve to concentrate the shamans's vital force. On the left side of the back there are metal figures of a bird (grouse) and a bear, the shaman's assistants. In the center of the back there are bands embroidered with hairs from the beards of reindeer and tubular metal pendantsthe "voices" of spirits. At the small of the back, fastened to the lap, is a suede strap with metal pendants a square pendant with a hole, the "passage" to the lower world; a loon, the shaman's guide; and a bell, the symbol of connection. The rounded pendants on the shoulders and the semi-oval pendant above the shoulder blades are solar signs. The strands twisted on the sides depict the shaman's "routes."
Yakut.
Eastern Siberia, Yakutia, early twentieth century.
Suede of reindeer, iron, cloth, hair from beards of reindeer.
Length 65 cm, width 48 cm, length of sleeves 60 cm.
Coll. No. 8762-20140.