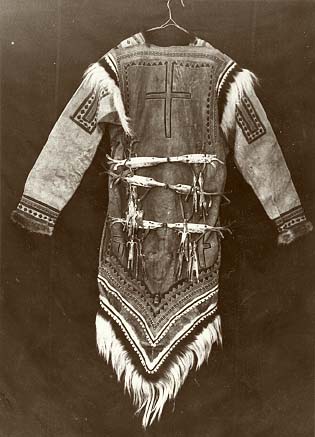 Image by the Russian Museum of Ethnography
The coat is manufactured in the form of a caftan with suede of wild reindeer. The cut, design elements, and pendants symbolize a bird, the main spirit-protector of the shaman, and reflect the view of the universe as consisting of three worlds. The metal pendants on the back and along the breast of the coat indicate helper spirits. The images of birds, including a loon on the rear lap, emphasize the role of birds as the shaman's guide to other worlds. The cross in the area of the shoulder blades symbolizes the four cardinal directions and the center of the universe. The geometric zigzag design delimits the boundaries of the universe. The coat belonged to a powerful shaman who was victorius in many struggles against the spirits.
Evenk.
Eastern Siberia, Yenisei region, Yenisei District, Kas River, a western tributary of the middle Yenisei River, late nineteenth and early twentieth centuries.
Suede of a reindeer; fur of mountain goat, bear, and muskrat; cloth; metals, including copper and iron; seed beads; dye.
Length 114 cm, length in front 84 cm, length of sleeve 61 cm.
Coll. No. 5589-36.