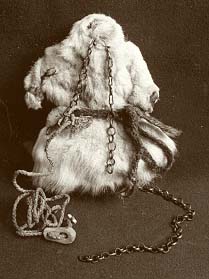 Image by Musée départmental de Solutré
This amulet represents the spirit-host of reindeer, which provided the primary means of existence. It represents a doll dressed in a man's coat with a belt of woolen threads and a lasso for catching reindeer. It is decorated with metal chains. Such charms were thought to promote luck in hunting.
Nenet.
Tobolsk region, Beryozovsky District, camp on the Yugan River, 1909-1910.
Fur and hide of reindeer, thread, metal, bone.
Length 18 cm, width 13 cm.
Coll. No. 1712-246.