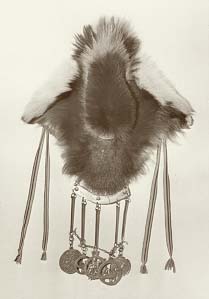 Image by Musée départmental de Solutré
Worn in winter, the headdress includes a curved metal plate from which small tubes and five rounded, carved-metal pendants are suspended.
Nenet.
Tobolsk region, Beryozovsky District, village of Obdorsk, 1910.
Fur of wolverine and polar fox, cloth, metal.
Height 45 cm, width 42 cm.
Coll. No. 1647-3.