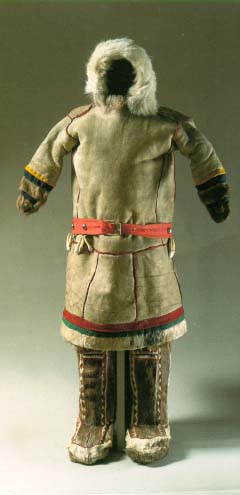 Image by Musée départmental de Solutré
This outer winter coat has a hood trimmed with white reindeer fur and mittens sewn to the bottom of the sleeves. It is decorated with bands of colored wool cloth on the bottom, sleeves, and seams and with a band of ringed-seal skin on the lower edge of the bottom.
Nenet.
Tobolsk region, early twentieth century.
Fur of reindeer, ringed seal, cloth.
Length 53 cm, width 51 cm, span of sleeves 63 cm.
Coll. No. 8762-17277.
---
Made of red cotton cloth, this belt is decorated with moose teeth, metal buttons, and rings.

Nenet.
Tyumen region, Yamal-Nenets Autonomous District, Purovsky area, camp of Napanachei, 1981.

Cloth, metal, moose teeth.

Length 77 cm, width 4.5 cm.

Coll. No. 10252-126.
---
These boy's winter shoes were worn with fur stockings. The shoes are decorated with geometrical designs made with a mosaic of light and dark reindeer fur. Bands of red wool cloth are sewn into the seams on the front and sides of the shoes.

Nenet.
Tobolsk region, Beryozovsky District, camp of Syanzy on the Ob River, 1909-1910.

Reindeer-leg fur, reindeer fur, cloth, suede.

Height 47 cm.

Coll. No. 1712-183/1, 2.