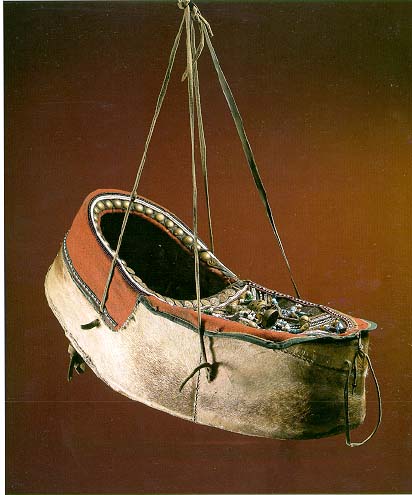 Image by Musée départmental de Solutré
The baby was placed in the interior birch-bark liner within the cradle and covered by reindeer hide sewn to the edges of the liner. Shavings of dry wood were used to absorb moisture. During migrations the cradle carrying the baby was hung on a separate reindeer; in dwellings it was hung on poles. The outer cover of the cradle is made from reindeer-leg fur and is decorated with red wool cloth, metal buttons, colored seed-bead embroidery, bells, and pendants made from strings of colored beads and metal. The cradle belonged to the family of Nikifor Yakovlevich Archank, the prince of the first Kurkugir tribe.
Evenk.
Yenisei region, Yenisei District, camp on the Khatanga River, 1907.
Wood, suede of moose, reindeer-leg fur, cloth, metal, bead strings, birch bark, reindeer hide, wood shavings.
Length of the cradle 68 cm, width 2127 cm, height 1620 cm.
Basket: 59 cm, width 22 cm.
Coll. No. 1210-81 (cradle), 1210-82 (interior cover and shavings).