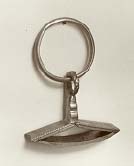 Image by Musée départmental de Solutré
Sparks were made by striking a piece of flint on the wide lower part of the strike-a-light and were directed towards moss or fine wood shavings in order to start a fire.
Nganasan.
Krasnoyarsk region, Turukhansk District, 1902-1904.
Metal.
Length 8.5 cm, width 7 cm.
Coll. No. 254-7.