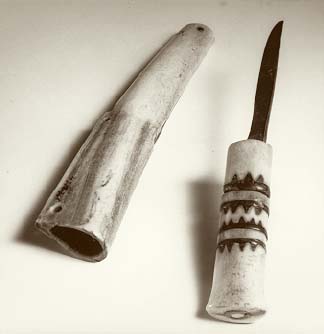 Image by Musée départmental de Solutré
The handle of the knife, made from reindeer antler, is decorated with ornamental leather bands.
Khant.
Tobolsk region, Beryozovsky District, camp of Nenkinskiye Yurty on the Ob River, 1909-1910.
Antler of reindeer, leather, metal.
Length 10.2 cm.
Coll. No. 1711-189.
---
The knife case is carved from antler of a wild reindeer.

Nenet.
Tobolsk District, Gydan Peninsula, Obdorsk, 1927.

Antler of wild reindeer.

Length 24 cm.

Coll. No. 4778-36b.