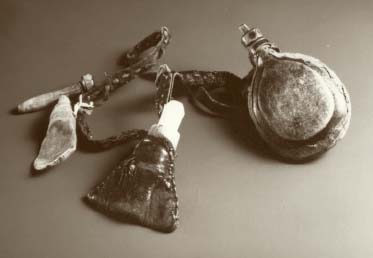 Image by Musée départmental de Solutré
The shoulder belt includes containers for gunpowder, bullets, and shot, a stopper (plug) for the gun, and an arm guard for a bow hunter.
Nenet.
Tyumen region, Yamal-Nenets Autonomous District, Purovsky area, camp of Napanachei, 1981.
Leather, wood, bone, reindeer sinew.
Sizes: a) Belt: length 88 cm, width 1.5 cm.
b) Container for gun powder: length 16 cm, width 10 cm.
c) Bag for percussion caps: height 11 cm, width 5 cm.
d) Bag for shot: length 13 cm, width 10 cm.
e) Muzzle plug for a gun: 8.5 cm.
f) Arm guard: length 8 cm, width 4 cm.
Coll. No. 10252-8.