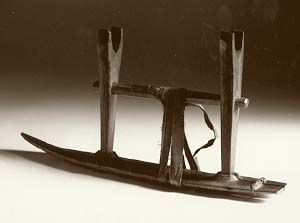 Image by Musée départmental de Solutré
When stalking wild reindeer, the barrel of the gun was placed on a support and inserted into the hole of a camouflaged shield.
Nganasan.
Yenisei Bay, Turukhansk region, Golchikha camp, 1902-1904.
Wood, sinew and hide of reindeer.
Length 33 cm, height 16 cm.
Coll. No. 254-12.