Public Events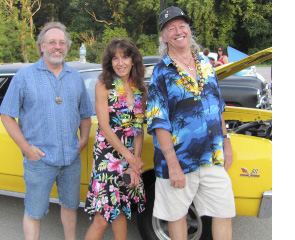 Hickory Ridge Concert Series: "The Wacky Keys" to Perform at Dickson Mounds Museum
Location: ISM Dickson Mounds Museum, Lewistown
Date: Saturday, July 20, 2013, 7:30 PM - 9:30 PM

Appearing at the Hickory Ridge Concert Series on Saturday, July 20, 2013 will be the group "The Wacky Keys". The performance will begin at 7:30 PM at the Dickson Mounds Museum in Lewistown, IL. This promises to be a fun, wacky evening.

The Wacky Keys are a 3 piece Hawaiian band who plays traditional Hawaiian music, pop tunes, swing tunes, Jamaican tunes, Jimmy Rogers tunes, and pretty much anything.

With Mike Warfel on Bass, Diane Norman on Guitar and Dave "DK" Kolars on Hawaiian Lap Steel Guitar, this entertaining trio brings the Hawaiian music craze of the early 20th century back to life with style and the shirts to match!

One of our Hickory Ridge Concert Series

The Hickory Ridge Concert Series is hosted by singer-songwriter Chris Vallillo. Performances by noted folk musicians are held the 3rd Saturday of every month at Dickson Mounds Museum and begin at 7:30 p.m. with the museum lobby opening at 6:30 p.m. Coffee, drinks, and a variety of desserts are available during intermission. There is an admission charge of $5.00 per adult — $3.00 for children under 12. Sitting is limited to the first 150 people. You can also visit the concert series web site at http://hickoryridge.outfitters.com/.




For more events at ISM Dickson Mounds Museum.


There are more events
scheduled, use the calendar
to check next month