Public Events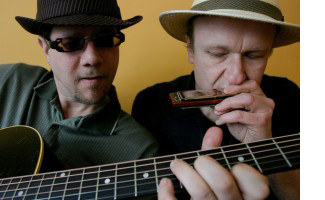 Hickory Ridge Concert Series: Blues and Roots Music Duo
Location: ISM Dickson Mounds Museum, Lewistown
Date: Saturday, October 20, 2012, 7:30 PM - 9:30 PM

Appearing at the Hickory Ridge Concert Series on Saturday, October 20, 2012 will be Joe Filisko and Eric Noden. The performance begins at 7:30 pm at Dickson Mounds Museum, Lewistown, IL.

This blues and roots music duo leaves an unforgettable impression. Their jaw-dropping virtuosity enables them to create more layers of sound and feeling than most full bands can summon, and both are high-energy, ultra-rhythmic performers. The collective result- in both their live shows and their recordings- are charged, dramatic performances that are simultaneously powerful and sophisticatedly subtle.

Joe Filisko is a master of all the classic blues harmonica styles. As Dennis Gruenling of Blues Review says, "Joe Filisko could be the best pre-war blues harmonica stylist in the world today." Filisko is not only an accomplished performer, but a skilled harmonica craftsman as well. His highly prized work and expertise has earned him the rare honor of having his name on one of Hohner's instruments­ the just-released specialty harmonica, the Thunderbird.

Eric Noden is a master bluesman in his own right. Deeply rooted in the music of 20's & 30's blues pioneers, Eric Noden's percussive guitar work, timeless songwriting and well-traveled blues vocals have earned the respect of audiences, critics, and musicians worldwide. Eric Noden sings, shouts and stomps while conjuring old spirits from the strings of his acoustic guitar. Varying his approach from song to song, Noden draws from a deep well of American music that fuels his high energy performances. His right hand thumb often lays down a driving bass figure that weaves around intricate melodic parts played with his fingers.

One of our Hickory Ridge Concert Series

For more events at ISM Dickson Mounds Museum.