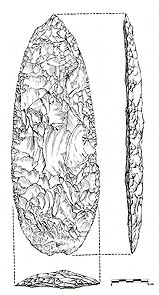 Digging tool from the Julien site,
a Flaked-stone implement.
Technology may be classified into one of three categories, (1) implements, (2) facilities, and (3) infrastructure. Generally, the distinction between implements and facilities is that implements are objects that can be transported to help with tasks, whereas facilities are relatively fixed in space. Infrastructure refers to the organization of a particular suite of implements and facilities to promote and maintain integration of some societal function - transportation and communication, for example. Clearly, some technologies, manufacturing processes, and means of accomplishing work are composed of numerous implements and facilities. Modern automobile manufacturing and transportation infrastructure such as roads, airports, and railroads are good examples. Chiefdoms like those represented by Cahokia were beginning to develop social infrastructures with technological components as a means to integrate Mississippian society.