---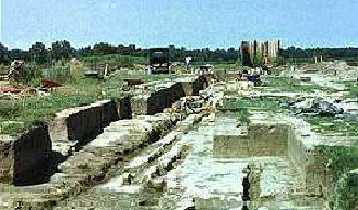 Excavation of palisade at Cahokia,
Cahokia Mounds Museum.
Of particular note are the following:
The wall cut through the heart of a residential area.
Bastions were regularly spaced along the wall.
Wall construction consisted of digging a trench, placing large logs vertically in the trench, lashing the timbers together, and finally burying the logs base.
The most reasonable interpretation of the wall which once ringed Cahokia seems to be that it represents a defensive fortification, particularly given the occurrence of similar, albeit smaller, structures at other Mississippian sites. Nevertheless, it has also been suggested that the wall was not strictly a defensive structure, but was intended to demarcate the central, most religious and elite part of central Cahokia. Why a wall intended to create a social barrier around the center of Cahokia would also have bastions is unclear.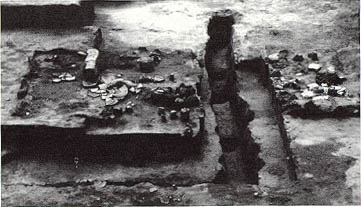 Palisade cutting through wall-trench house, Cahokia.
---