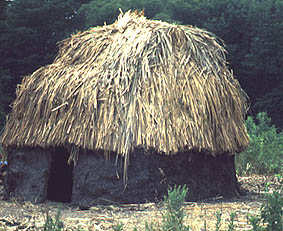 Simple commoner's house at a small hamlet. Most people lived
in similar houses that were not elevated on mounds. Note that
most reconstructions of Mississippian houses depict waddle
and daub walls, even though there is little evidence for this
construction technique in the American Bottom.

A chiefdom has several characteristics, many or all of which may be present:
It is a ranked society in which one's prestige and authority are determined by how closely related that person is to the chief and his lineage or clan.
The chief lacks a consistently available and effective means of physical coercion. In other words, a chiefdom lacks an army or police to enforce the chief's will by physical means.
One or two levels of administratice control is found above the common local community. That is, chiefs have at their disposal administrative control associated with the settlement and mound center of their residence, and some varying control of the smaller settlements, perhaps administered by lesser chiefs who are often his relations.
Sufficient wealth is controlled by the ruling elite to employ craft specialists.
In most chiefdoms both political and religious responsibilities are closely intertwined. The chief and religious leader are often one in the same. Not surprisingly, the chief and his family are revered as almost god-like. Among the Mississippian-like Natchez (1600s - 1700s), for example, the chief was referred to as "the brother of the sun."