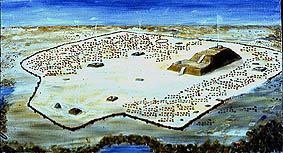 The expanding "footprint" of Mississippian society - Cahokia,
Stirling phase (ca. A.D. 1100)
No doubt too, the growing population of Mississippian settlements increased the need to clear land for residences and community space. Land was artificially leveled to create plazas. Earth was mined for plaza, house, and temple mound construction. The borrow pits from this mining still pock the floodplain around large centers like Cahokia. Not only was a largely human environment created by agriculture and residential land clearing, it is likely that the natural environments some distance from the mound centers were also affected. For example, wood to feed fires for cooking and heat may have been collected for many miles around large towns. Thus, for perhaps the first time in North America, humans began to have more long-lasting physical and ecological impacts on their natural environment.