Copper plate of falcon dancer, Southeastern Missouri.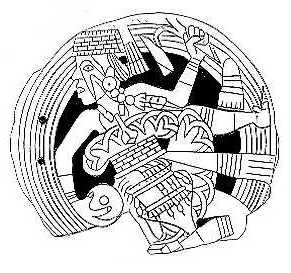 Shell gorget showing a chunkey player with forked-eye motif, Perry County, Missouri.
A falcon costume was apparently worn by a priest or chief. In either case, the body parts specific to the falcon - the sharp, flesh-tearing beak, the over-sized talons, the forked eye markings, the barred wing feathers, and ventral spot - are clearly indicated. In all cases, falcon images or symbols - and perhaps birds in general because of their ability to soar and enter the upper world - are believed to convey strong military, political, and chiefly characteristics.