Society Archives:ptscty55aclr2.jpg
You can browse the archives for this section.
---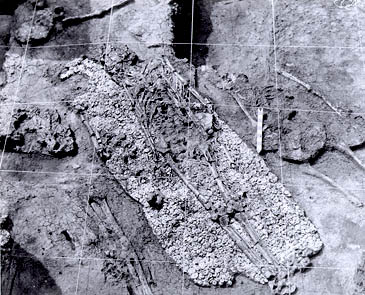 Mound 72 sub-mound1 central burial on shell bead blanket/cape. Note the possible bird head (falcon?) shape of the top of the blanket/cape.
Fowler, M. L. 1991. Mound 72 and Early Mississippian at Cahokia. In New Perspectives on Cahokia, edited by J. B. Stoltman, pp. 1-28. Monographs in World Archaeology, No. 2. Prehistory Press, Madison. Fig. 1.7, p.11
Image courtesy of Prehistory Press.
---