Economy Archives:ptecon52map2.jpg
You can browse the archives for this section.
---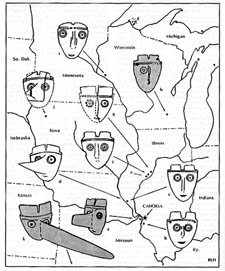 Shared culture in time and space - map showing the locations of midwestern sites yielding long-nosed god masks.
Hall, R. 1991. Identity and Interaction Models of Cahokia Mississippian. In Cahokia and the Hinterlands, edited by T. E. Emerson and R. B. Lewis, pp. 3-34. University of Illinois Press, Urbana. Fig. 1.7, p.32
Image courtesy of the Board of Trustees of the University of Illinois.
---