Art Archives:pxartxx1clr.jpg
You can browse the archives for this section.
---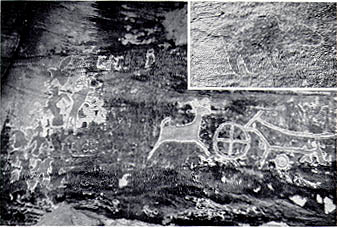 Likely Middle Mississippian petroglyphs from Southern Illinois sites. Lower is back wall of rock shelter near Gorham Ill. Upper right appears to be a buffalo calf painted yellow over depressed area. Outlines were chalked for photographs.
Deuel, T., 1958. American Indian Ways of Life. Illinois State Museum Story of Illinois No. 9, Springfield. Fig. 28, p.43
Image courtesy of the Illinois State Museum.
---