Art Archives:pxartx17ld2.jpg
You can browse the archives for this section.
---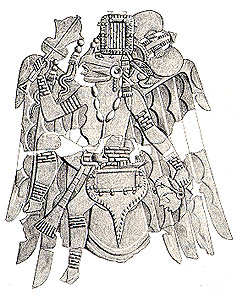 Copper plate of falcon warrior or priest with severed human head in one hand and a ceremonial or war club/ax in the other, Etowah Mound, Georgia. Note also the barred wing feather cape and the hooked, raptor-like nose.
Williams, S., and J. M. Goggin 1956. The Long Nosed God Mask in Eastern North America. Missouri Archaeologist 18(3):3-72. Fig. 19, p.39
Image courtesy of Smithsonian Institution Press.
---