Art Archives:ptartsnakex.jpg
You can browse the archives for this section.
---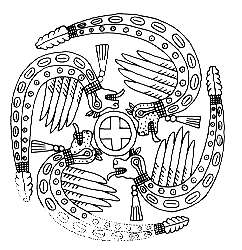 Engraving on shell from Spiro Mounds, Oklahoma showing winged rattlesnake-panther beings around a cross-and-circle symbol.
Hamilton, H.W. 1952. The Spiro Mound with a Preface by J.A. Brown, and including An Interpretation of the Place of Spiro Mound by Charles C. Willoughby. Missouri Archaeologist Vol. 14. SEE ALSO Howard, J.H. 1968. The Southeastern Ceremonial Complex and its Interpretation. Memoir of the Missouri Archaeological Society No. 6. Plate 111 (Howard 1968; Fig. 14d, p.50)
Image courtesy of Missouri Archaeologist.
---