Luxury Steamboats: Masterpieces in Water
While most of the steamboats that came and went from the East St. Louis waterfront were work-a-day packets with few frills, there were some steamboats on the Mississippi known for their luxurious appointments. More than an exciting means of travel, these boats were technological marvels, employing the latest innovations throughout their decks.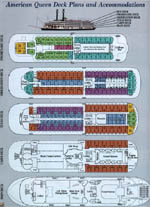 The deck plans for the modern steamboat, the American Queen
During the steamboat era there were three steamboats that carried the name J.M. White. The first was completed in 1842 at Elizabethtown, Pennsylvania and survived only a year before sinking. Workmen completed the second in 1843 at Pittsburgh. Billy King of St. Louis designed the second J.M. White. King placed the paddles of the second steamboat just aft of amidships. He discovered that the wave steamboats created while in motion - the bow wave - crested just past amidships. Placing the paddles where the wave crested allowed the buckets to push against more water. King also made improvements that made the second J.M. White more maneuverable than most steamers. Even steamboats today, designed for luxury cruises, are hard pressed to compare to the J.M. White.